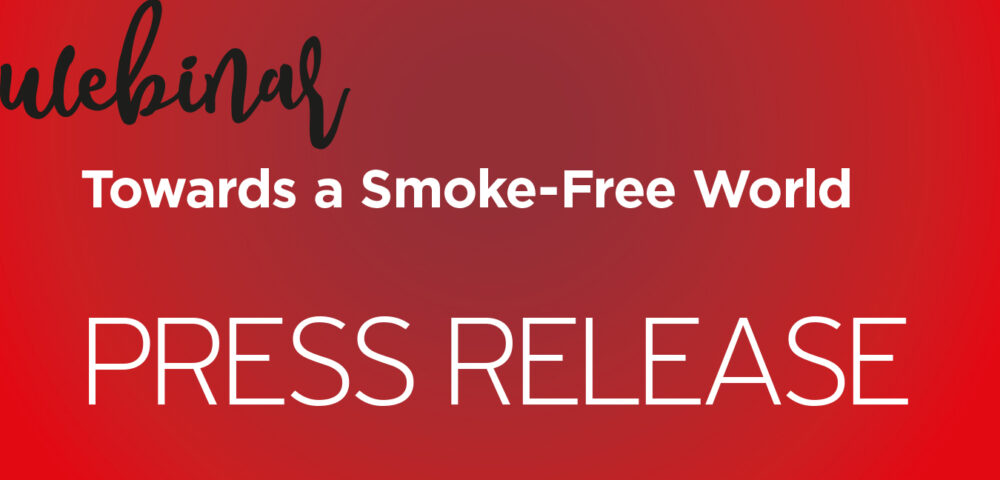 PRESS RELEASE || Webinar "Towards a Smoke-Free World"
PRESS RELEASE – Webinar "Towards a Smoke-Free World"
Wednesday, July 5th, 2023, 15:00-16:30 CEST
"Let more lower risk products in the market to make cigarettes obsolete"
Ioannis Faropoulos, Chief Executive Officer Center for Clinical Epidemiology and Outcomes Research (CLEO), who played an important role in the legislation change with regard to the alternative tobacco products in Greece, moderated an insightful discussion on what lies ahead in this field at the webinar "Towards a smoke-free world", held on July 5th.
Karl Erik Lund, SCOHRE Vice-President and Senior Researcher at the Norwegian Institute of Public Health in Norway, in his speech "Are European policies in line with the goal set for a Smoke-Free Europe?" pointed out that in today's societies "we get marginal effects from intensifying the traditional weapons of tobacco control." "Smokers have changed―he said–they possess other characteristics than those we targeted with traditional tools some decades ago, while our strategies remain unchanged". The core elements of the newer Tobacco Harm Reduction strategy are availability of alternatives to cigarettes; risk-proportionate regulation (e.g. taxation); communication of the difference of risk between products, and advice to smokers for switching products. As he put it, "Let more lower risk products in the market to make cigarettes obsolete."
There are two lines of thought in Europe, he explained. The 'purists' who believe that we should aim at a nicotine-free society, that nicotine addiction is unacceptable, thus the ultimate policy goal should be a nicotine free society, and that the nicotine industry can't be trusted. Then there are the 'pragmatists' who believe that our main goal is to reduce smoking related diseases, that recreational use of nicotine will always exist and is acceptable if health risk is low. To them, there are huge risk differences between products, but also novel products may outperform cigarettes and put them out of the market. Dr Lund insisted on the importance of educating users and telling smokers about the relative risk. He concluded that THR should be a complementary strategy to curb the smoking epidemic.
"Public Health Policies are about reducing risk" said Theoklis Zaoutis, President of the National Public Health Organization of Greece, opening his speech "Holistic approach in public health. How can we complement our public health strategies to reach a Smoke-Free World?" He underlined the role of public health institutions and addressed the dilemma between 'purists' and 'pragmatists' regarding smoke reduction policies. He also stressed that the Covid-19 pandemic made the concept of a smoke-free world a necessity as smokers with chronic conditions suffered heavier consequences and mortality rates. He also focused on the need to monitor the epidemiology of smoking of conventional cigarettes and alternative products use; this way, reliable data will be obtained to generate effective educational campaigns. Regarding Tobacco Harm Reduction policies, he acknowledged that risk reduction is included in most public health policies, and referred to the example of STDs, where abstinence is not a choice; instead, risk reduction methods, such as the use of condoms, are promoted. He concluded that "Harm reduction policies always face resistance," as in known cases of attempts to reduce salt and sugar, that received heavy criticism.
Professor Andrzej Fal, President of the Polish Society of Public Health and Head of the Dept of Allergy, Lung Diseases & Internal Medicine and Director of the Institute of Medical Science, Poland, in his speech entitled "How fiscal tools can contribute to tackling the spread of smoking towards a Smoke-Free World?" explicitly stated: "Our aim should be to stop people from buying cigarettes, or if we have two products of different risk to make the one with less risk more available!" As he has also previously stated "Less harm, less tax." "We should use the fiscal tools―he said―because fiscal prevention has been proven cost effective in the UK, Sweden, and the US. Those Ministers of Finance who are afraid of losing excise tax looking at next year's budget simply neglect the long-term impact on the healthcare budget. The lost excise tax in next year's budget is simply peanuts…" he concluded.
Tobacco smoking is a well-established risk factor for several serious conditions, including cancer, CVD, and chronic respiratory diseases. Quitting tobacco smoking is the best way to limit health damages. However, only 30-40% of smokers are successful in quitting (including those receiving psychological and pharmacological support). Harm reduction is an important tool for those who cannot succeed in quitting. Taxation can be used as a fiscal tool in health policy, he stressed.
Daphne Kaitelidou, Professor at the Dept of Nursing, National & Kapodistrian University of Athens, and President of the National Agency for Quality Assurance in Health (ODIPY) in her speech addressed the issue of the need to have "Better informed citizens and more data to drive behavioral change." She first described the current data on smoking globally, in the EU and nationally, and commented that smoking kills more people than malaria and tuberculosis. Although numbers declined after various policies have been implemented, still the prevalence of smoking is high in EU countries and Greece in particular.
She then presented the results of an unpublished survey, called PaRIS (Patient-Reported Indicator Survey), an international survey of people living with chronic conditions in which Greece has participated. Smoking was included as an indicator and patients self-reported their experiences and health outcomes. Now that a wealth of data is being produced, Greece faces two important challenges, she underlined: that data are not systematically collected, not always shared with all interested parties, and not integrated into daily clinical practice. She suggested that health promotion programmes need to raise awareness and inform; they need to include smoking cessation counseling to improve primary health care quality and develop personalized plans for vulnerable groups. To achieve a tobacco-free world―she concluded―we need to monitor the smoking habit to design evidence-based tobacco control policies and apply cross-sectoral collaborations between governmental, national and international stakeholders to address the challenges.
In the discussion that followed, Faropoulos raised the issue of preparedness for the upcoming tenth session of the Conference of the Parties (COP10) to the WHO Framework Convention on Tobacco Control to be held in Panama, in order to showcase the benefits of tobacco harm reduction policies to WHO. Prof. Fal suggested that all interested parties should join forces and urged the EU representatives to discuss best practices with their governments. Faropoulos stressed that there should be a common EU approach before COP10 with the use of the good results achieved by countries like Norway or Sweden, which apply tobacco harm reduction policies. Dr Lund ascribed WHO's predisposition towards alternative tobacco products to prior bad experience with low nicotine cigarettes and filters; to the perception that tobacco industry is behind all the alternative products, whilst only 20% of them is being produced by the industry, and finally to the longing that WHO is demonstrating for purity and perfection.
Regarding the question when we will be able to have solid evidence on morbidity and mortality on alternative tobacco products effects, Prof. Fal suggested that we cannot wait for 10-15 years for the researchers results, but we can address alternative products with a well-informed approach. He underlined that we could base our policies on the fact that alternative tobacco products produce a definitely reduced risk for smokers. Dr Lund underlined that there are epidemiological data from Norway and Sweden on snus, which is used widely since the 1970s. Prof Kaitelidou proposed implementing systematic and periodical health promotion actions since awareness campaigns don't have the expected results. Dr Lund summarized the discussion's key points: to persuade smokers of harm reduction you need to have price differences, regulation according to risk, and education regarding alternatives – suggesting that information regarding harm reduction should be included inside the cigarette package, so only smokers could have access to them.
Το watch the video recording, please visit the webinar platform: WATCH