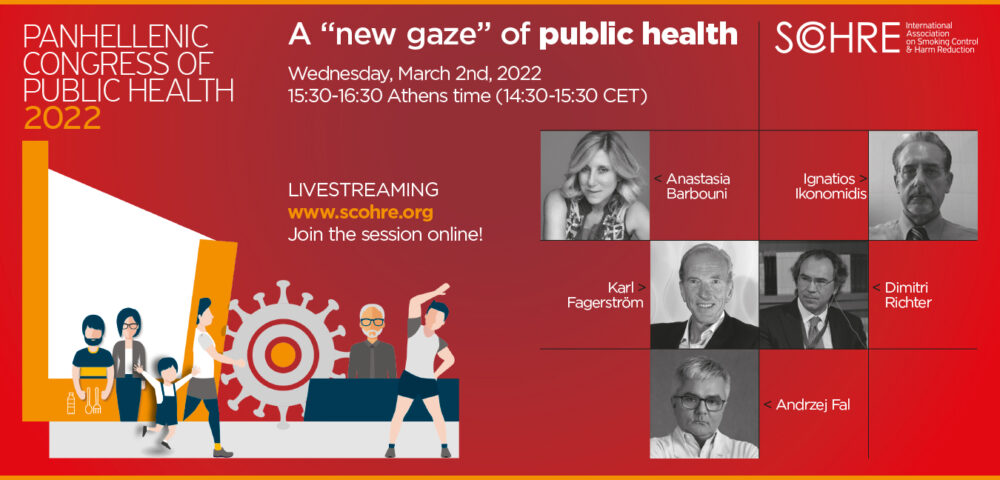 Panhellenic Congress of Public Health 2022: A 'new gaze' of public health
Event Date: 2 March 2022 || 14:30-15:30 CET
Location: A hybrid event - Livestreamed session
SCOHRE is invited to participate in the PANHELLENIC CONGRESS OF PUBLIC HEALTH 2022 in a session entitled "A 'new gaze' of public health". The session will take place in Athens (GREECE) on Wednesday, March 2nd, 2022, 14:30-15:30 CET (15:30-16:30 Athens time) and it will be accessible on-line through the SCOHRE website.
The session will be coordinated by Professor Anastasia Barbouni, MD, MSc, PhD, Professor of Public Health and Disease prevention, School of Public Health, University of West Attica, Athens, Greece, Member of SCHORE Executive Board and Professor Ignatios Ikonomidis, MD, PhD, FESC, FAHA, Professor of Cardiology, National and Kapodistrian University of Athens, Greece, President of SCOHRE Executive Board.
The three speakers of the session will cover different perspectives of public health as follows:
Dimitri Richter, MD, FESC, FAHA, Head of Cardiology Department, Euroclinic Hospital, Athens, Greece, Founding member of SCOHRE will speak about the "Regulatory trajectories in Public Health", Karl Fagerström, Professor Emeritus; President, Fagerström Consulting, Sweden, Founding member of SCOHRE in his speech entitled "Another perspective for Public Health" will discuss the case of Sweden and snus, while Andrzej Fal, Prof. h.c., MD, PhD, MBA, FAAAAI, President, Polish Society of Public Health; Head, Department of Allergy, Lung Diseases and Internal Medicine, Director, Institute of Medical Science, UKSW, Warsaw, Poland, Member of SCOHRE will discuss taxation in his lecture "Can taxation contribute to public health?".
Join the session online – free access!