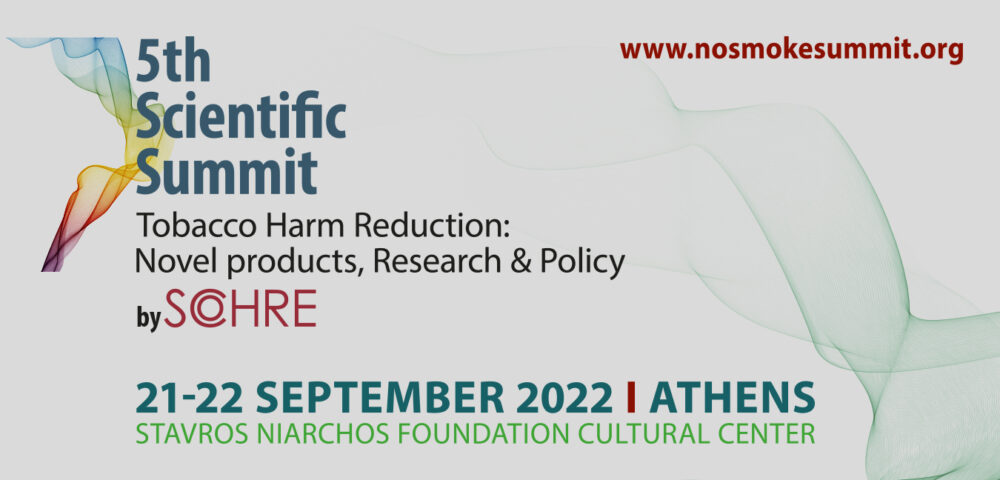 5th Scientific Summit on Tobacco Harm Reduction 2022 – JOIN US!
Event Date: 21-22 September 2022
Location: SNFCC, Athens, Greece (Hybrid event, both in presence & virtual attendance)
5th Scientific Summit on Tobacco Harm Reduction 2022
Seventy (70) speakers from 25 countries around the world will convene in Athens to join the 5th Scientific Summit on the 21st and 22nd of September, or even join remotely, to present their work on Tobacco Harm Reduction, novel products research and policy, share experiences, discuss and contribute to the debate.
In a 360º approach of Tobacco Harm Reduction, the two-day Summit will cover most issues from basic science, epidemiology, toxicology, clinical efficacy, and long-term safety, to social, legal, and regulatory issues, ethics and human rights. Current challenges that governments face in smoking control and dealing with tobacco harm reduction will be analyzed.
The highlight of the Summit will be a panel discussion amongst 12 THR organisations & THR experts that will elaborate on the challenges & prospect of THR for the satisfaction of people's needs.
Join the Summit, either face to face―to experience in person the debate and networking with other experts―or remotely, free of any charge, if you are an academic or researcher! Check the announced preliminary programme and the research sessions and register now!